Even though this tour started off with a Celebration of Life for a close friend, collaborator and Musician/Songwriter – I can't imagine anywhere I'd rather be to reflect, process and heal.
Ok – where does this story really start?… I've owned a Haida Gwaii guitar for almost 20 years – made by Rob Bustos and Greg Williams from a Spruce of the great Haida Gwaii forest. I had always wanted to visit the island, and see where this guitar originated. Years ago, when I was hosting the open mic at Café Koi in Calgary, Roly Thompson walked into my life – Songwriter, musician and artist – we became fast friends. Roly already had a propensity to Haida Gwaii, and lived there for a few years. He invited me out to explore, and hooked me up with a couple of performance opportunities – I'm in!
After three planes, sleeping in airports, hopping shuttles and automobiles – I have arrived!… and to be sure – what an arrival! Roly picked me up from the airport in Masset, then took me for lunch here: a bus converted into a restaurant/bakery.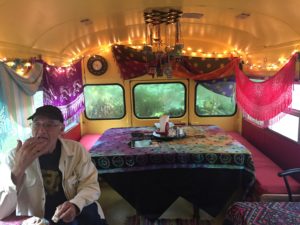 With a two hour drive ahead of us, we hit the road on this major highway: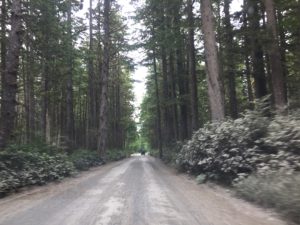 …where we ran into his brother Dave, grading the road – which was pretty likely since he's the only grater on the island!
We drove up Tow Hill Rd, where we explored the beautiful forest of Tow Hill in Naikoon Park and the gorgeous sand beaches: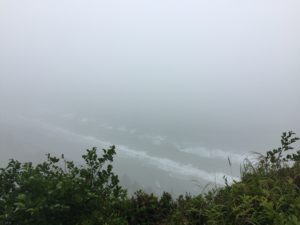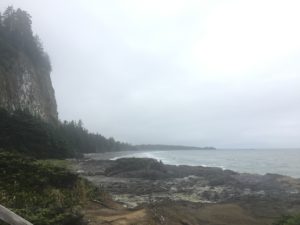 Stopped in to see the historic Hiellen Totem Pole: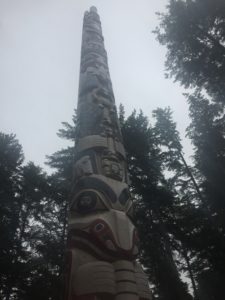 After heading back into the town of Masset for supplies, we continued our journey down the Queen Charlotte highway. Next stop was Port Clements to drop into his brother's place to pick up his mint 1978 GMC camper van – my hotel room for the week! (Van pic to come!).
Then, our final destination of Queen Charlotte where Roly and his partner Skye, along with their two dogs, Zeva and Lola reside in their beautiful home. We were welcomed with a tasty dinner made by a visiting friend Lucy, who is from Mexico. So much love! Finally, Roly and I headed out for a rehearsal with his band – The Hippy Hill Billies. With a stage built on a property, it was the perfect place to jam on some great tunes… and we attracted a pretty good crowd of people from the neighborhood!
Wow – what a day!