The general feeling you receive from the island is basically… happiness! The views are extraordinary, anywhere you go in town. Roly and I did some errands yesterday, picking up tiles for his carpentry business. After a few waves along the way to the locals, we arrived at the hardware store within minutes from home. Before we could get out of the truck, a friend and fellow musician was waiting to talk with Roly and catch up. People are upbeat, friendly, welcoming – everyone knows everyone.
He showed me around his shop: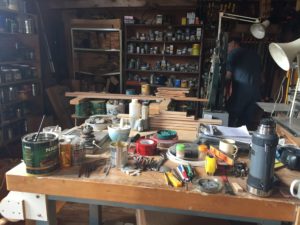 Checked out the space where the Fall Festival will be on Sunday – great stage!: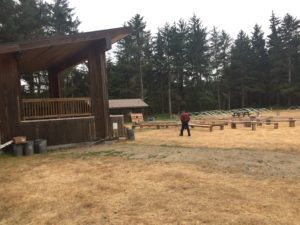 We spent the day playing music, catching up on each other's tunes, and watching the dogs do their little dance – running out to greet whatever slightest sound that peeked interest.
Roly and I have played gigs in the past as an acoustic duo – presenting our original music, playing on each others songs… even though we have quite different styles. I find it easy to find the harmonies, and I have a lot of fun playing the lead breaks on acoustic guitar. Roly's writing is real, encouraging, genuine – I respect his music, and its a privilege to play it. He's become a dear friend, and its great to see him in his natural habitat!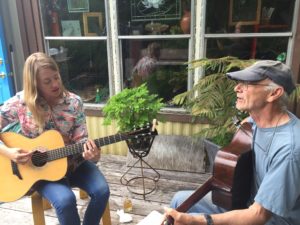 I have the Ocean View Pub gig tonight. Starting with the open mic at 7:30PM, then I end the night as the feature artist. Looking forward to performing in front of a completely new audience – exhilarating!