Roly and I spent the morning catching up on our laptops at the breakfast table, while Lucy worked her magic at the stove creating gourmet tortillas made of blueberries… we welcomed the challenge as food critics! Lucy is a contestant in the Fish Fry Showdown at the Fall Fair this Sunday, entering a blueberry tortilla taco… she is sure to win! Skye was off to her job working a shift at the Information Centre, meeting visitors and sharing helpful tips.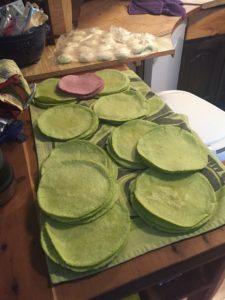 The weather was overcast for most of the day, as everyone crossed their fingers for some rain. Its dry here… even the berries on the trees are left uneaten for lack of juice. And eventually, a light rain came to greet us.
I spent the day anticipating the show that night… just so excited to share my music to an entirely new audience. The 'OV' Pub (Ocean View – should be called 'Spectacular Ocean View Pub') is quite a big room, nice stage. The open mic portion of the show brought out some of the locals singing John Prine and some bluegrass, then two young solo performers – Roly performed a set, as well.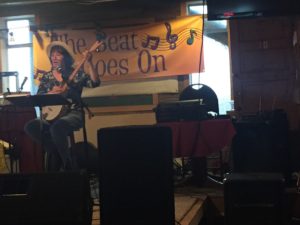 I took the stage as the Feature Artist for the rest of the night. The crowd was really receptive to my music, and I had fun choosing the songs on the spot, observing the crowd. The patrons were up dancing and singing along – ah, what a satisfying feeling!